Your Guest List for Sunday's Talking Head News Shows beamed across America by Corporate Media PLUS reports from the best progressive media! If you have other Sunday Talkie shows' guest lists we don't have please share below. DEBUNK HERE! Throw Bricks!
First brick is on us!

~ ~ ~ ~ ~ ~ ~ ~ ~ ~ ~ ~ ~ ~ ~ ~ ~ ~ ~ ~ ~ ~ ~ ~ ~
ALL LINKS OPEN A NEW WINDOW!!!
As you all know Senator Edward "Ted" Kennedy was buried in Arlington Cemetary on Saturday. But did you know he almost caused a "brokered" Dem Convention in 1980? Kennedy came into the Democratic convention at Madison Square Garden in New York City with 1,225 delegates to Carter's 1,981 and 122 uncommitted. Kennedy's only chance to wrest the nomination from Carter, who had enough delegates to win, was to pass an "open rule" motion. Read the rest. As we know from the 2008 election the gap between HRC and BO was much closer going into the convention, despite the efforts of Michigan and Florida and the Dems magically awarding Obama delegates from Michigan out of thin air. Just sayin'. So, on this somber weekend, YOU CAN THROW BRICKS! Start with NEW This George's Roundtable member LIZ CHENEY and throw them hard enough to bounce off and hit GEORGE WILL too. Throw them REALLY HARD and bounce them off to DARTH CHENEY on FAKE NEWS. The usual suspects you've seen and heard all week will blanket the other shows. Of course check out the BTV Alerts and Updates and the alternative voices we have every week. The Brick TeeVee crew wonders what liberal Senator will take up Ted's place as the "Liberal Lion"? Sheldon Whitehouse? Sherrod Brown? Bernie Sanders? An unknown to us now who breaks through? Rest in peace now, Teddy. We're still here. Fighting. Like you did.


**** **** The Liberal Lion of the Senate **** ****

Edward Moore "Ted" Kennedy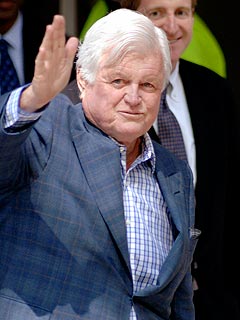 February 22, 1932 – August 25, 2009
http://tedkennedy.org/
**** **** **** ****
BRICK TEEVEE ALERTS!
»»»
Glenn Greenwald @ Democracy NOW!
WATCH
Glenn Greenwald on CIA Interrogation Probe, Obama and Why the Media Failed on Covering Torture
»»»
Ted Kennedy Retrospective @ Democracy NOW!
WATCH
Edward Kennedy (1932-2009): Veteran Senator Championed Civil Rights, Healthcare, Working Poor in 46-Year Career
»»»
Dr. Howard Dean on GRITtv
WATCH
Howard Dean's Prescription for Healthcare Reform, Healthcare Around the World and Got Docs?: Orgasm Inc.
»»»
Vince Warren & Scott Horton on GRITtv
WATCH
Vince Warren & Scott Horton: Will Torture Architects Be Prosecuted?
»»»
Michael Steele on NPR Morning Edition
Steele: Don't Raid Medicare To Fund Health Changes
Steve Inskeep almost sounds like a journalist and takes GOP Chair Michael Steele to task
Here's the decoder ring for Steele's comments from WaPo's Steven Pearlstein that Inskeep couldn't get Steele to admit on air.
The GOP's Top Chef Starves a Beast and Poisons a Debate
Republicans Propagating Falsehoods in Attacks on Health-Care Reform
»»»
MLB on TBS
White Sox @ NY Yankees - 1 pm et
»»»
Sunday Night Baseball on ESPN
Braves @ Phillies - 8 pm et
BRICK TEEVEE ACTION!
STOP MANDATORY VACCINATIONS FOR H1N1
Natural Solutions Foundation www.GlobalHealthFreedom.org What You Can Do to Prevent Forced Mandatory Swine Flu Vaccinations. Demand Your Right to Self-Shield! Add your comments in too!
Protection From Compulsory Vaccination, Drugging - Your Right to Self-Shield!
SIGN NOW!
MORE INFO HERE:
What's the Danger of Swine Flu Vaccinations?
The average quantity of
squalene
injected into the US soldiers abroad and at home in the anthrax vaccine during and after the Gulf War was 34.2 micrograms per billion micrograms of water. According to one study, this was the cause othe Gulf War syndrom in 25% of 697.000 US personnel at home and abroad. (3). You can find this table of FDA analyses from the Gulf War lots on The Military Vaccine Resource Directory website (4)
These values were confirmed by Prof. R. F. Garry (5) before the House of Representatives. Prof Garry was the man to discover the connection between the Gulf War syndrome and squalene. According to his findings, the Gulf War syndrome was caused by squalene, which was banned by a Federal Court Judge in 2004 from the Pentagon´s use. (6) ~ As seen on p. 6 of this EMEA document (7), the Pandremix vaccine contains 10,68 mg of squalene per 0,5 ml. This corresponds to 2.136.0000 microgrammes pr. billion microgrammes of water, i.e. one million times more squalene per dose than in (4). There is any reason to believe that this will make people sick to a much higher extent than in 1990/91. This appears murderous to me.~~ So far the use of squalene has been banned by the FDA in the US according to Der Spiegel (9). However, this may not last long (10). ~ My advice: If you are forced to be vaccinated against the harmless swine flu (H1N1) – demand a vaccination with the AstraZeneca nasal vaccine MedImmune (8)– thereby avoiding squalene side effects. -Dr. Anders Bruun Laursen @ Global Research, August 20, 2009
BRICK TEEVEE UPDATE!


We reported about Whole Foods CEO's John Mackey and his WSJ op-ed on health care a few weeks ago. Now Yahoo Finance reports (last Tuesday), "The CtW Investment Group, a part of the Change to Win federation of unions that advocates on behalf of workers' investments in pension funds, said in a statement that it is calling on the Whole Foods board to remove Mackey as chairman and find a new CEO. "Mr. Mackey attempted to capitalize on the brand reputation of Whole Foods to champion his personal political views, but has instead deeply offended a key segment of Whole Foods consumer base," CtW Investment Group's Executive Director Bill Patterson said in a statement." Well, THAT didn't take long! Go to BOYCOTT WHOLE FOODS for more info.




B R I C K T E E V E E
image ©2006 arkysue
THEY report. YOU throw bricks. ©
The essential guide for watching government propaganda
IRAQ: 4,336 Military Dead as of Aug 29, 2009
AFGHANISTAN: 807 Military Dead as of Aug 28, 2009
2,314 days since "Mission Accomplished"
The Obameter: Tracking Obama's Campaign Promises
This Week (ABC)
• Orrin Hatch, R-Utah
• John Kerry, D-Mass.
• ROUNDTABLE: Liz Cheney joins our expanded roundtable, along with George Will and Sam Donaldson, Gwen Ifill from PBS and Washington Post columnist EJ Dionne.
Face The Nation (CBS)
• Sen. John McCain, R-Ariz.
• Sen. Dianne Feinstein, D-Calif.
• Sen. Orrin Hatch, R-Utah
• Rep. Barney Frank, D-Mass.
• Michael Eric Dyson, Georgetown University sociologist
• Sen. Kent Conrad, D-N.D., Finance Committee
• Dr. Howard Dean, Former DNC Chairman
60 Minutes (CBS) Ted Kennedy's Legacy
• THE WASTELAND - Where do the millions of computer monitors, cell phones and other electronic refuse our society generates end up? Some of it is shipped illegally from the U.S. to China, reports Scott Pelley, where it is harming the environment and the people who salvage its valuable components. Solly Granatstein is the producer.
• FINANCIAL WEAPONS OF MASS DESTRUCTION - Steve Kroft examines the complicated financial instruments known as credit default swaps and the central role they are playing in the unfolding economic crisis. Frank Devine and Jennifer MacDonald are the producers.
Meet the Press (NBC) An hour-long tribute to Sen. Ted Kennedy
• Sen. John Kerry
• Sen. Chris Dodd
• Maria Shriver
• Bob Shrum
• Kathleen Kennedy Townsend
• Presidential Historian Doris Kearns Goodwin.
• ****New MSNBC re-air time: Meet the Press will re-air on MSNBC at 2 p.m. ET Sunday afternoons, in place of our 5 p.m. re-air. We will continue to re-air at 2 a.m. ET and 5 a.m. ET (Monday morning) as well.****
State of the Union With John King (CNN)
State of the Union with John King offers a blend of newsmaker interviews, political analysis, national and world affairs and cultural segments, plus an hour of Reliable Sources media analysis, hosted by Howard Kurtz, airing every Sunday from 9 a.m. through 1 p.m. et
On a special State of the Union this Sunday, a look back at the life of Senator Ted Kennedy. Close friends join John King to reflect on Kennedy's influence in Congress and the Kennedy legacy. Justice Stephen Breyer, U.S. Supreme Court
• Senator Chris Dodd (D-Connecticut)
• Senator Orrin Hatch (R-Utah)
• Larry Lucchino, President and CEO of the Boston Red Sox;
• Thomas M. Menino, Mayor of Boston
• Thomas P. O'Neill III, Former Massachusetts Lieutenant Governor
• Robert F. Kennedy, Jr., Ted Kennedy's Nephew Justice Stephen Breyer, U.S. Supreme Court
• Hour 2 - Howard Kurtz & "Reliable Sources", now a part of "State of the Union" - not really.
• soundbites from all the other shows that we can blow up REAL BIG with our guests and more! (Hey we gotta fill up four hours!)
BREAKROOM LIVE
Marc Maron and Sam Seder LIVE STREAM Weekdays at 3 pm et!

amazing graphic & logo by nicole s.
ON HAITUS - Watch this space for more info! For up-to-the-minute updates go to samsedershow.com.
Ring of Fire Radio
Find us at http://ringoffireradio.com and http://goleft.tv/
(NOTE: Ring of Fire Home page was not updated this week! Visit Ring of Fire Station List to catch the Sunday rebroadcast! -Ed.)
• This Week on Ring of Fire!. David Bender will be with us this weekend to fill in for Bobby.This week, we'll be taking a look back at the legacy of senator Ted Kennedy, one of the longest-serving and most influential men to ever serve in the US Senate. Senator Sheldon Whitehouse will stop by to tell us what it was like to work with the liberal lion. Eric Boehlert from Media Matters will be with us to talk about some of the craziest lies coming from the radical right about healthcare reform, and he'll help us determine what is fact, and what is fiction. We've also got investigative journalist John Nichols with us to talk about the need for Eric Holder, as well as president Obama, to get tough and actually prosecute the individuals responsible for torturing detainees. And comedian Matt Filipowicz will be stopping by to help us run through the news behind the news. - fcousins posted on August 28, 2009 10:26
• Join our blog at http://www.ringoffireradio.com/
Ring of Fire Radio hosted by Robert F. Kennedy Jr. and Mike Papantonio: Saturdays at 3 o'clock Eastern, rebroadcasts Sunday nights at 8 pm (4 pm on XM 167) featuring The PAP Attack! "We'll bring you the stories that the mainstream media didn't feel like reporting this week."
On the Edge with Max Keiser Podcasts and more @ MaxKeiser.com!
WHO IS MAX KEISER? Max Keiser is a financial expert, Prediction Markets analyst, inventor and filmmaker. He is the creator of the Hollywood Stock Exchange (HSX) the first Prediction Market. Max Keiser co-hosts "The Truth About Markets" on ResonanceFM 104.4 in London. He also produces and presents documentary films covering markets and finance for Al Jazeera's "People & Power" series. Max Keiser started his career on Wall Street in 1983. He is the creator of KarmaBanque a site that enables activists to challenge corporate power.
• Stacy Summary: What say ye? I note in the 'emergency control' over internet story, this paragraph: "Probably the most controversial language begins in Section 201, which permits the president to "direct the national response to the cyber threat" if necessary for "the national defense and security." The White House is supposed to engage in "periodic mapping" of private networks deemed to be critical, and those companies "shall share" requested information with the federal government. ("Cyber" is defined as anything having to do with the Internet, telecommunications, computers, or computer networks.)" So, the emergency powers would extend to personal computers as well as the actual internet? Bill would give president emergency control of Internet @ c|net Barney Frank says HR1207 will pass @ youtube
• [OTE16] On the Edge with Max Keiser . . . and Mish Shedlock Mike "Mish" Shedlock in THREE new VIDEOS!
ANTIWAR RADIO with Scott Horton & Charles Goyette LIVE (9-11am Pacific, 12pm - 2pm Eastern) Plenty of archives too!
Listen at Antiwar Radio
• Scott Horton interviews Eugene Bird (mp3) 44:29 Aug 29 2009. Eugene Bird, president of the Council for the National Interest Foundation, discusses Obama's leaked plan for a Palestinian state, evictions and house demolitions in non-Jewish areas of East Jerusalem, increasing agreement among foreign policy elites that Israel must make concessions and how Iran's nuclear issue is exaggerated by Israel to divert attention away from the Palestinian issue.
fauxnews
• Chris Wallace sits down for an exclusive interview with former Vice President Dick Cheney.
• Plus the Fox News Sunday panel remembers Ted Kennedy's life and legacy with Bill Sammon – Fox News Washington Managing Editor & Mara Liasson – National Public Radio & Fox News & Bill Kristol – Weekly Standard & Fox News & Juan Williams – National Public Radio & Fox News
(looks like FAKE SNOOZE had to gather the usual suspects to bergrudgingly spend precious air time to acknowledge/deride Ted (or not?) -Ed.)
~ ~ ~ ~ ~ ~

Brick TeeVee - THEY report. YOU throw bricks. ©

We're here because you're there. ©


First brick is on us!