Your Guest List for Sunday's Talking Head News Shows beamed across America by Corporate Media PLUS reports from the best lib/prog media! If you have other Sunday Talkie shows' guest lists we don't have please share below. DEBUNK HERE! Throw Bricks!
First brick is on us!

~ ~ ~ ~ ~ ~ ~ ~ ~ ~ ~ ~ ~ ~ ~ ~ ~ ~ ~ ~ ~ ~ ~ ~ ~
ALL LINKS OPEN A NEW WINDOW!!!
For decades Cleveland Ohio has hosted an air show on Labor Day. The early ones were celebrations of aviation with stunt pilots amazing the crowds. Over the years the Cleveland Air Show on Labor Day became more militarized, transforming stunt pilots into Blue Angels that today "strife" Downtown Cleveland when they arrive. It was decided we should renounce showcasing these military weapons and offer a better way. The Brick TeeVee Crew will be spending our Labor Day working the 2010 Cleveland Peace Show.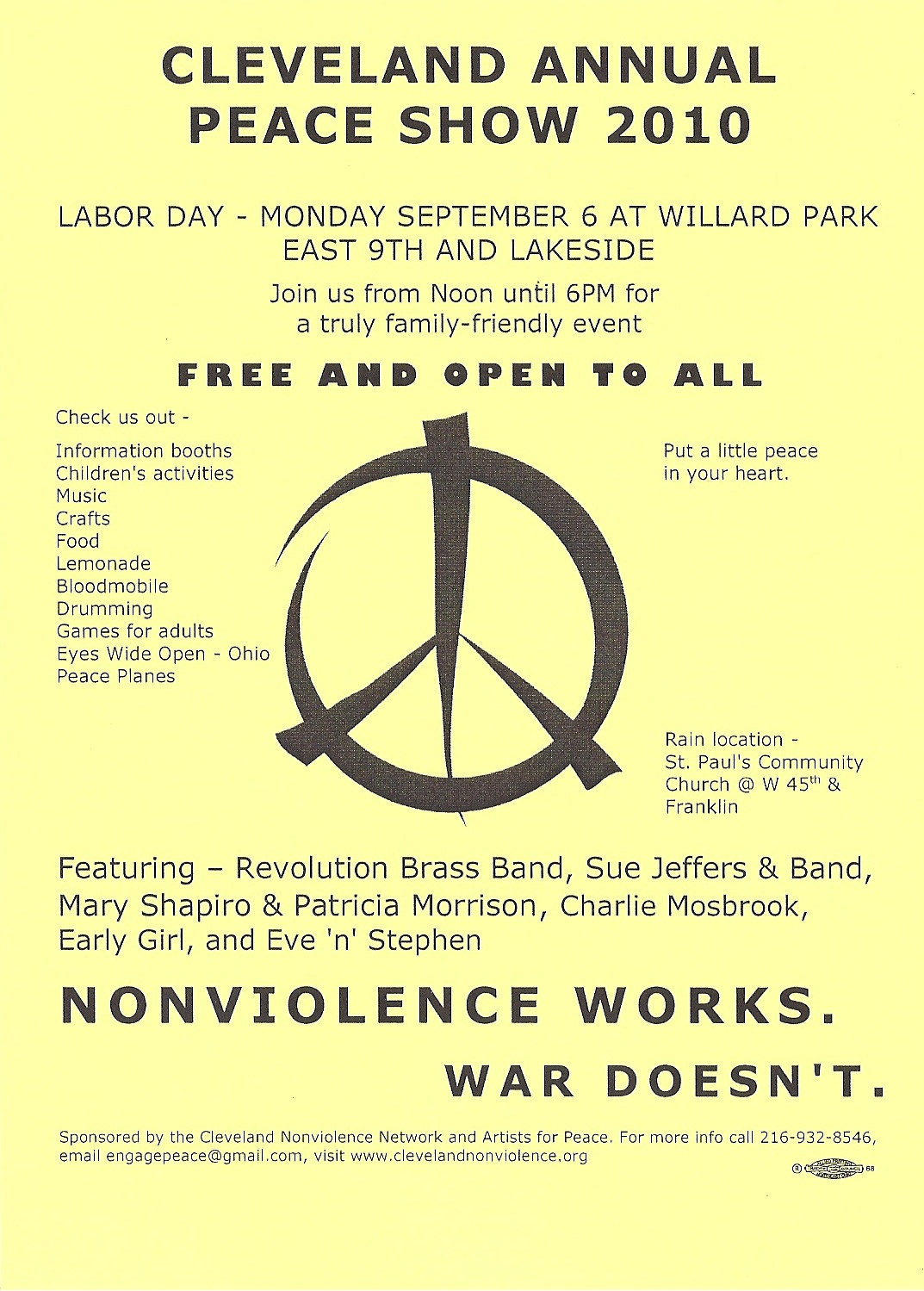 The Cleveland Nonviolence Network
Sponsored by the Cleveland Nonviolence Network and Artists for Peace.


Peace Action Cleveland The Cat Food Commission is actively working to destroy what's left of America's social safety net while completely ignoring the massive expenitures the Military Industrial Spy Complex costs, north of $700 Billion in just the 2010 budget. The illegal invasions of Iraq and Afghanistan will cost at least THREE TRILLION DOLLARS including all long term costs. American politicians of all stripe have chosen to squander billions of dollars in "war" under the guise of "fear" and "national security" instead of spending that taxpayer money on shoring up schools and infrastructure. See WaPo "Top Secret America" and "Iraq For Sale" for your unaccountable tax dollars at work. Military spending is never taken into account when the teabaggers incessantly bitch about "the deficit" and "entitlements" and call for IMF-Chicago-School-type domestic "belt-tightening". This paradigm cannot be sustained indefinitely. On this Labor Day Give Peace a Chance.
We at Brick TeeVee believe U.S. corporate media is doing great harm to our democracy as they narrow the debate and stifle the free market of ideas. Our goal here is to help our readers discover new and vital information the corporate media ignores. There are plenty of very worthy media outlets you can support too:
TruthDig
.
truthout
,
The Raw Story
,
Consortium News
,
BradBlog
,
TomDispatch
,
BuzzFlash
,
Media Matters
and many more.
Please contribute to these media outlets and others you favor to keep the dialogue going. Anything you can contribute will help. Click on the links to get to their week's stories and find the Donate Link at each site.
As Thomas Jefferson said, "An informed citizenry is the only true repository of the public will...The People cannot be safe without information. When the press is free, and every man is able to read, all is safe."

B R I C K T E E V E E
image ©2006 arkysue
THEY report. YOU throw bricks. ©
The essential guide for watching government propaganda
IRAQ: 4,416 Military Dead as of Sept 2, 2010
AFGHANISTAN: 1,274 Military Dead as of Sept 2, 2010
The Obameter: Tracking Obama's Campaign
Considering Democracy: 8 Things to ask your Representative
This Week (ABC)
• Former British Prime Minister Tony Blair
• ROUNDTABLE: George Will, New York Times columnist Tom Friedman, Nobel Prize-winning economist Paul Krugman and Mary Jordan of The Washington Post.
Face The Nation (CBS) Host Bob Schiefer
• Laura Tyson, Former Chair of the Council of Economic Advisers
• Mark Zandi, Moody's Analytics, Chief Economist
• Gretchen Morgenson, NYT Assistant Business and Financial Editor
• Nancy Cordes, CBS News Capitol Hill Correspondent
• Jim VandeHei, Politico Executive Editor
Meet the Press (NBC) Host David Gregory
• Senate Republican, Lindsey Graham (R-SC)
• Obama 2008 campaign manager David Plouffe
• ROUNDTABLE: CNBC's Erin Burnett; Charlie Cook of the National Journal and The Cook Political Report; The Washington Post's E.J. Dionne; and the National Review's Rich Lowry.
State of the Union With Candy Crowley (CNN)
• AFL-CIO's President, Richard Trumka
• President of the National Association of Small Business, Todd McCracken
• ROUNDTABLE: Ron Fournier, Editor-in-Chief of the National Journal, Michael Duffy, Assistant Managing Editor of Time, and Elisabeth Bumiller, Pentagon Correspondent for the New York Times.
HEAD ON RADIO with Bob Kincaid MUST LISTEN!


Headon Radio with Bob Kincaid 6 PM Eastern, 3 PM Pacific, 2300 GMT. Duration: 3 hrs. To be part of the conversation on Head-on Radio, call toll-free (877) 443-2366, or use our Liberal community line at 304-658-3333. Email: bob [at] headonradio [dot] com.
Talkers' Magazine : Bob Kincaid one of The Frontier Fifty!!!
• MORAN MONDAY! Bob explains exactly what the Beck-a-palooza was all about using his power of hearing Evangelical dog whistles! You'll be really surprised! Listen HERE (mp3)! Amen to White Rose Society for the podcasts! Head On Radio needs our help! Donate HERE!

Brick TeeVee - THEY report. YOU throw bricks. ©

We throw bricks so you don't have to. ©


First brick is on us!

FAIR USE: Regarding postings which may contain material published online by various sources: This site may present material the use of which has not always been specifically authorized by the copyright owner. We present such material available in an effort to advance understanding of environmental, political, human rights, economic, democracy, scientific, and social justice issues, etc. We believe this constitutes a "fair use" of any such copyrighted material as provided for in section 107 of the US Copyright Law. In accordance with Title 17 U.S.C. Section 107, the material on this site is presented without charge to those who have expressed a prior interest in receiving the included information for research and educational purposes. See: http://www.law.cornell.edu/uscode/17/107.shtml